May 12th, 2013
April Durham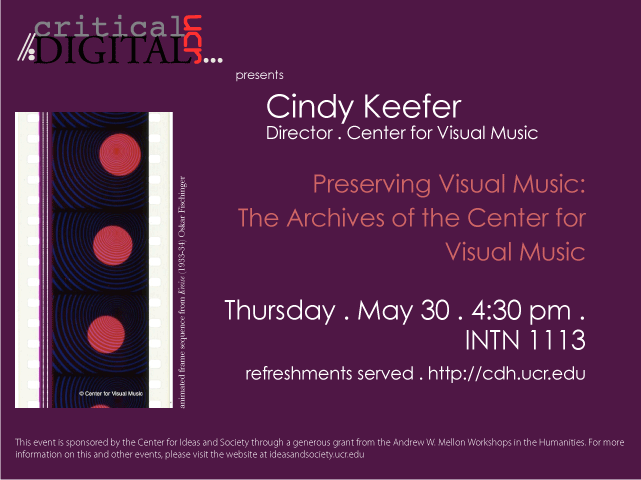 Cindy Keefer, Archivist, Curator & Director . Center for Visual Music
Preserving Visual Music : The Archives of the Center for Visual Music
THURSDAY . May 30 . 4:30 PM . INTN 1113 . Refreshments served .
Cindy Keefer, Director of the Center for Visual Music Los Angeles, will discuss and screen work by pioneers of kinetic art, abstract animation and pre-digital cinema from CVM's archives. CVM is a Los Angeles archive dedicated to visual music, experimental animation and abstract media.  CVM preserves and promotes films by Oskar Fischinger, Jordan Belson, Charles Dockum, Mary Ellen Bute, Jules Engel, Harry Smith and others, as well as contemporary artists. Keefer will screen work from CVM's archives by Fischinger and Belson, plus Dockum's Mobilcolor Projections, Bute's Abstronics (an early oscilloscope film), a short Bute documentary, and more. She will also discuss Belson's now legendary 1950s Vortex Concerts, CVM's work with the Fischinger legacy, current preservation work, and Raumlichtkunst, the new HD 3-screen reconstruction of Fischinger's 1920s multiple-projector performances, recently exhibited at the Whitney Museum, the Tate Modern, and scheduled for exhibition at the Palais de Tokyo in Paris in summer 2013.
This is the last event CDH will host for the 2012-2013 season. Please join us for this exciting presentation.