February 16th, 2014
Steve Anderson
On February 13th I attended a workshop on TEI and Markup Fundamentals sponsored by the Graduate Quantitative Methods Program. The workshop was given by Rochelle Gold and Kimberly Hall from the Department of English at UC Riverside.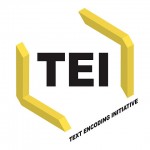 TEI (Text Encoding Initiative) is a method of encoding texts with markup language for digital representation. TEI markup focuses on rendering the semantic qualities of texts more visible. For example, sentences and clauses can be marked within a text, as well as the lines and features of a poem. This granular level of encoding allows for digital representations of these texts to carry details and information beyond their normal forms, which is valuable for critical interpretation.
Adding TEI markup to a document is an "intimate" process as described by Hall. With the addition of every XML tag the encoder must make a series of choices based on the priorities of the project. The TEI process can be quite time consuming, but the close reading required for this encoding also fosters a deep understanding of the text itself.
The basic process of TEI encoding consists of three parts:
1. Document Analysis
What is the text, and what are your research and interpretive priorities?
2. Encoding
Adding markup to the digital version of the text. For texts that have not been digitized, this is also a process of transcription into digital form.
3. Output
Our workshop concentrated on the fundamentals of TEI, so we didn't yet delve into output. However, the first two steps appear to be the primary focus of TEI, as the encoding is more concerned with semantic representation than visual production.
Overall, the workshop was very well done, and it brought to light new possibilities for my own historical teaching and research. Many of the sources I share with students are digitized, and hyperlinks are helpful for connecting to other sources of information. With TEI these linkages can be broadened greatly — for example, I could encode mentions of historical places, uses of foreign language, or references to Classical antiquity and mythology. Integrating TEI into this workflow will be very helpful, allowing students to see primary source texts in new ways, and adding a new dimension to my own research.
Cross-posted at Book, Archive, and Manuscript Studies @ UC Riverside:
http://bam.ucr.edu/2014/02/notes-on-tei-and-markup-fundamentals-workshop/